What does an art critic do when the museums and galleries are closed? When classes are canceled (if you teach)? When your book spirals into limbo (if you have a publication in the works)? What does the future of art criticism look like as works migrate steadily to online platforms, and so many on the Web call themselves critics?
Turns out they are surprisingly engaged—from doing Zoom classes and visits to planning shows to writing poems to drawing every day. Here are responses from eight art critics to Vasari21's questions about how they manage their down time and the future of art criticism.
John Yau (New York): I am a juggler and my days are spent juggling. This is consistent no matter what the situation. Since mid-March, I have stuck to the same schedule. I get up between 5:00 and 6:00, feed the dog, make coffee, and go to my computer and begin writing. After I quickly answer one or two emails, usually from Europe, which is five hours later than my time zone, I start working on various projects, from poems and a poetry manuscript to my weekly piece for Hyperallergic Weekend to a catalogue essay to a monograph. I also work on the books that I publish through my small press, Black Square Editions. My choices are largely decided by deadlines. When is something due? I do these things until around noon, depending on what others in my family are doing that day (taking or teaching an online class) and how early they get up.
After this private time, I get ready and take the dog for the first of his walks. The length of time I am outside depends on the weather. If it is raining, a short walk. If it is not, a long walk. If I spend a few hours writing in the morning, I feel like I have started the day off right. I think this routine is necessary for my mental health. I have stay focused or the day will unravel and I will end up doing nothing.
The rest of the day varies: cooking food that will last a few days or longer, trying to figure how to get food, and checking out the one social media platform I am on.  I don't talk on the phone if I can help it. I try to set aside time for reading, but feel like I have not quite integrated the right amount of time into my routine, largely because I spend too much time reading the news.
I shall be forever grateful to Hrag Vartanian, the publisher of Hyperallergic, as I can write about anyone I want to, including artists who don't have galleries. In the past few weeks, after the galleries and museums closed, I have been contemplating what an artist needs to make his or her work. Do they need assistants or will a piece of paper and a pencil do? What do we pay attention to and why? It seems to me that this last question is the one that we should have been paying attention to all along.
David S. Rubin (Los Angeles): I can't review any shows right now, and I may or may not continue writing for Visual Art Source, which is currently revamping its format at this critical juncture.  Although we've delayed the exhibition I've curated for Mash Gallery in downtown Los Angeles, we will give it an online presence very soon with a 3-D virtual representation.  The exhibition is called "The 99%" and features works by Albert Alvarez, Jodi Bonassi, and José Lozano.  I'm also working with Carole Sorell, Inc. on a forthcoming traveling exhibition of works by Marcel Mouly (1918-2008), who has been called "the last of the School of Paris" artists.  And, of course, I draw every day.
Karen Wilkin (New York): What am I doing while museums and galleries are closed — besides teaching my seminars at the New York Studio School via Zoom? I'm writing for New Criterion about the wonderful "Cézanne: The Rock and Quarry Paintings" at the Princeton University Art Museum, which I saw when it opened, the weekend before everything closed. I owe two catalogue introductions, one for a group exhibition in New York, postponed indefinitely; the other for an Andrew Forge show at Fairfield University Art Museum, scheduled for September, which we hope will proceed as planned. I have extensive notes from spending time with the work I'll be writing about. I've been proofing the book that accompanies "Figuration Never Died," a show of ten New York painters who continued to work figuratively, 1950-1970. It was supposed to be the summer show for the Brattleboro Museum and Art Center in Vermont, but it has been postponeded to fall and winter, 2020-21. We're all crossing fingers
I've sent my students a list of online resources, virtual exhibits, artists' interviews, and the like, all of which I've explored. The strangest thing was being invited to a virtual press preview by a major commercial gallery that also suggested that I would want to review the exhibition based on seeing it online. While it's the work of an artist I'm very familiar with, I declined. If reviewing without seeing the real thing becomes standard, it's the end of the world as I know it.
Peter Plagens (New York): "All dressed up and no place to go" might be the appropriate phrase. "Dressed up" means time, an unstructured professional schedule, and an itch to get my timeless prose into print. (I imagine that's the case with many other scribblers-about-art.) The problem is fresh material for reviews—which are the heartbeat of art criticism—because there are no actual exhibitions of physical art in brick-and-mortar galleries and museum upon which to opine.
Sure, one can blather online about some tic with the art world, or culture in general, or publish one of those think-pieces editors dread. But they've gotten like major-daily op-ed screeds (well-deserved, of course) about the incompetence/malfeasance/malevolence/psychosis of Donald J. Trump: We know, we know already, and unless there's a bunch of new data (better delivered deadpan in reported stories), new ways of pronouncing the same old verdict aren't all that interesting.
So, what do I do? I've got one piece in the hopper for The Wall Street Journal, another review (about a show at a closed museum) for which I'm going to get paid whether it runs or not because it was assigned before the plague was upon us, and an idea—adapted to my en charette condition—for an arts column the paper runs from time to time. There's a book essay, done and filed, about which a publisher's editor will undoubtedly nitpick, and an art book that my spouse, Laurie Fendrich, and I have written and are still tickling before sending it off to an agent.
I also have an ongoing zillion-word journal that poor old UCLA is going to have to handle when I shuffle off because they have my, um, "papers" in their art archives. Finally, I squander time on Facebook, the biggest waste being arguing with Trumpers who want to disguise themselves as "moderate Republican," across-the-aisle, earnest seekers. In short, I just keep on keepin' on because I don't know what else to do.
Then, of course, there's life. I'm lucky because we sold a house-studio-barn property in the Catskills (physically, just too much for a guy looking down the barrel of 80) and bought—way before COVID-19 hit, mind—a house big enough for modest studios, art storage, and living on one floor, in Connecticut. But we've just brought our daughter, her husband, and their two-year-old son up here, out of Manhattan to sequester with us. That involved condensing and sealing off half the house, and me becoming a bus boy who delivers meals to another front door and washes dishes. (Laurie does more: she cooks.)
All of which to say, there's no boredom problem—what with all of the above, plus mysteries on the Roku given to us a couple of Christmases ago (I recommend Detective De Luca—high-grade Italian popcorn), trying to plow through Sapiens, and, oh yeah, the studio. I should feel guilty, I suppose, but I don't. And I sure don't miss openings.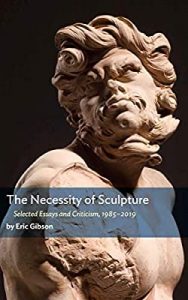 Eric Gibson (New York): Basically this crisis has been a triple whammy for me in my three roles as editor, critic and newly-published author.
As an editor, the lockdown blew up our coverage at the Wall Street Journal–nothing to review now! So we had to pivot, and came up with what we're calling the "Staying Inside Guides," where our critics recommend streamable arts and culture fare. I told them I don't want boring–no endless listicles of "The Ten Best Documentaries on…." I urged them to be creative, and start by playing off the news. So because March was the 30th anniversary of the Gardner theft, we ran a story on art heists. Also next week, pegged to the anniversary of the Notre Dame fire, we'll be running an item on Notre Dame and Gothic architecture generally.
As a critic, of course, I'm dead in the water right now. My review of the Judd show at MoMA appeared in the April New Criterion, which of course I'm happy about, but sad that, for now, nobody can see the exhibition. With luck the museum will reopen before the show closes in July. And after four weeks of quarantine I'm beginning to experience art withdrawal, missing one-to-one encounters with actual objects.
As an author, I've had to watch my anthology, The Necessity of Sculpture, which came out in early March, go right down the rabbit hole—no chance of a review! Not that I expected any, to be honest. Still, the timing couldn't have been worse.
Hard to tell about the future of art criticism—it's so hard to predict. Where contemporary art will go is another interesting question. I worry about the larger ecosystem—galleries and museums. This is an extinction event for many of them and even the big ones are reeling. I saw a Glenn Lowry quote the other day where he said it would take months if not years to return to pre-pandemic levels of attendance and financial stability.
Elisa Turner (Miami, FL): It's depressing right now that you can't see art in person. I do not find virtual exhibits all that engaging. But maybe I lave not seen enough.
Nevertheless I am writing for artburstmiami.com and the Biscayne Times, and there are interesting stories I can still follow and report on by doing phone interviews with artists or curators or art historians. I am forever fascinated by the creative process, and over the years there are certain artists and art professionals with whom I have had wonderful conversations. Even in these crazy and stressful days, we can still have a dialogueon the phone so I am very grateful for that.
My big news is that I am one of nine winners of the 2020 Rabkin Prize for art writing. I am thrilled and absolutely stunned.
I've also been doing volunteer work for Miami Democrats by working at home, taking part in a letter-writing effort urging people to sign up to vote by mail. And I have been reaching out to seniors by phone to see if they have access to any Covid-19 county services they might need.
Peter Frank (Los Angeles) It's hard to say what the impact of the Covid-19 pandemic will have on something as rarefied and marginal as art criticism—especially given that art criticism has already undergone such thorough metamorphosis in recent years. Art discourse suffers in many ways, and benefits in so many others, in the context of a digital(ized) world, and what I'm seeing so far, at least, is that the viral catastrophe is driving even the stubbornest among us to social media platforms. At this point, Zoom could publish its own art magazine. (Hell, at this point it could open its own university.)
What troubles me is not the social-mediazation of art criticism, but the social-mediazation of art itself. I regret the rendering virtual of what is actual, even as I have to accept that seeing artwork on-line is how most people are going to be seeing it –indeed, have been seeing it for the last 20 years or so.
This begs the question(s) concerning hard-copy art publishing and brick-and-mortar galleries. Both are under severe stress and are diminishing in number; but it hasn't been proven, theoretically or actually, that those models are themselves superannuated. Even though virtual exhibitions, installed in virtual spaces, are now rife, actual exhibition spaces still attract many visitors. Just as a picture of the Eiffel Tower doesn't check Paris off your bucket list, neither does a virtual run through the Louvre.
As for publishing, periodicals are trebling on-line, but fewer and fewer are presented in print format. On the other hand, art books are coming out at a staggering rate. Art books—whether  fancy-ass monographs or auction-house catalogs doused with scholarship—lend their subjects a gravitas, a meta-framing of visual and intellectual profundity. In and of themselves these books provide artistic experience(s): powerful design, sensuous object, the engagement of the reader's time, and the ennobling effect of high-grade reproductions—reproductions set apart from one another on discrete pages rather than uploaded to commonizing formats.
This is where some of the best critical writing goes on these days, in these catalogues and books. It's not argumentative criticism, to be sure, as it is guaranteed to advocate for its subjects. It befalls the (mostly non-art-specific) intellectual periodicals, in print or on-line, to maintain "old-fashioned" disputatious discourse. But the erudition and philosophical inquiry, the art-historical rigor and lyrical prose, is just as keen in those catalogues as elsewhere.
Many of us miss the old days when critics were intellectual heroes and art magazines were idealistic and sexy. We should miss them – they constituted a golden age of commentary in parallel with the postwar golden age of American art. But the '50s, the '60s, the '70s, indeed the whole damned 20th century, are all gone.
And a pandemic is a disease, not an excuse. It's a game-changer all right, but the game has been on a steep re-learning curve for three decades. How will the game change further? And how will you—writer, artist, dealer, collector—adjust?
Franklin Einspruch (Boston): I'm learning C, the programming language. Some interesting topics, notably computer graphics, are primarily described in C or one of its descendant languages. It's a bit like the computing equivalent of Latin—it's ancient, and it underpins an enormous amount of subsequent expression.
I'm not sanguine about the future of art criticism. The profession has long been connected to two others, journalism and academia. Journalism has been foundering for two decades. Academia has made itself vulnerable to fiscal assaults, of which the threatened closing of the San Francisco Art Institute is an early taste. Then there's the virtualization of the art world, which is likely to cut out the art critics just as the digitizing of music cut out the music critics. Covid19 and its fallout promises to accelerate all of those trends towards their respective conclusions.
But in the near term, my site for art reviews, Delicious Line, has opened a special section, Delicious Quarantine, which is publishing art-adjacent pieces for the duration of the shutdown. I'm drawing, because it's what I do. And I'm putting a lot of thought into what comes next, because I sense that a great reordering is underway.