Coming to Grips with "Makee-Doo"
I suppose it all begins with the "Sandy Becker Show," which Boomers may remember watching on little black-and-white TVs in the 1950s and '60s. The genial host of this children's variety program regularly showed drawings sent in by his audience and awarded prizes for the best submissions. I won a Tiny Tears doll for my portrayal of Snow White, and was thrilled beyond belief when Sandy held the drawing up to the camera for all to see. As I recall, I gave Snow White stars for eyes, a thick mop of black curls, and candy-red lips.
But when the doll arrived, my mother announced that we were giving it to my cousin Kathy for Christmas because I already had a Tiny Tears doll and besides mine had hair and this one didn't, so I had the better deal already. I most likely howled in protest: "But it's my prize! I won it fair and square!" Nonetheless the doll went to Kathy.
In truth,  my mother was neither cruel nor indifferent to her children's creative urges; she was simply a practical woman. A couple of years earlier, before this first and only venture into celebrity portraiture, she affixed long sheets of butcher's paper to the walls of my bedroom so that I could scribble freely with crayons without ruining the paint job. She called these forays into the visual arts "makee-doo" (no, that's not mangled Japanese; it was her child-speak way of explaining the urge to put something on paper or canvas…or even the walls).
By the time I was in high school, a couple of years after my brother had left for college, my parents and I were living in an apartment in Manhattan in the not-yet-fashionable far East 70s. The urge to paint came upon me with the same thundering force as the hormones that were doing strange things to my skin and body. I had a walk-in closet in my bedroom, which I somehow managed to turn into a mini-studio with an easel and shelves for paints. Where I hung my clothes I have no idea, but I was at that age deeply smitten by Gauguin and my masterpiece from those years was a portrait of a winsome Tahitian maiden with long thick black hair, her breasts discreetly hidden by jungle foliage that never would have stopped the master from making an X-rated statement. My mother christened the painting Tondeleo, and her image eventually took pride of place in the living room of my parents' small summer house in Montauk.
But in school it was not my artistic efforts that impressed but rather my good grades in just about every subject but chemistry, my high SAT scores, and a generally wonky aspect in spite of my best efforts to affect a certain Manhattan chic on Human Days, that one day a month when we were allowed to wear something other than the school uniform. "Ann is a scholar," pronounced Miss Sweeney, the pastel-suited, white-haired dean of girls. Clearly she had no insight into the bohemian fires that burned beneath my crested blazer.
I was accepted into both Princeton and the Cornell College of Art and Architecture, and though I dearly longed to explore a fine-arts curriculum the pressure was on me big-time, as a member of the first class of women, to storm that all-male bastion of elitist privilege. (To hell with that, I just thought my odds of having a boyfriend were probably a lot higher when the male-to-female ratio was so ridiculously stacked in my favor. And I had serious reservations about winters in upstate New York.)
As I have noted earlier, Princeton was no place for a studio-arts major, in those days and maybe now (I don't keep up with the curriculum, never go to reunions, and still have mixed feelings about attending what one writer elsewhere described as a "quality day-care center.") I ended up with an art-history major and went on to earn a master's in that subject from Columbia. I'm grateful for the experience, but couldn't see any future in museum work or an academic career (for one thing, I was at the time so painfully shy I had to pop one of my mother's Valium to get through seminar reports).
And so gradually I drifted into journalism, as a copy editor, an editor, and finally a writer. But through the years that strange urge to indulge in "makee-doo" would fall upon me. I recall plugging away at some fairly miserable oil paintings in the basement of a house my now ex-husband and I rented in Weston, MA. When we moved to San Francisco, frustrated at my inability to find a job in publishing or teaching, I found cheap studio space and began doing some rather gorgeous pastel drawings of shells, like the one below. But these never felt like more than a hobby, not a real occupation, and over time I got bored with the repetitive nature of what I was doing. I never sought out artists' groups, which might have helped me find a more authentic "voice," though I did take a course in marketing your art and hung a couple of pieces in a restaurant.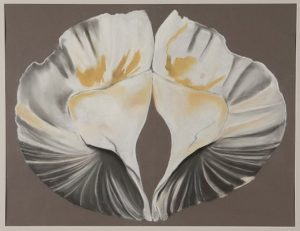 After I returned to New York and started writing for ARTnews full time, the makee-doo impulse dried up completely. I was reviewing and profiling and reporting on the "real" art world, interviewing heavy hitters like Frank Stella, Lynda Benglis, Ursula von Rydingsvard, and Nick Cave, writing catalogue essays—writing, in fact, just about any damn art-related assignment that came my way. It was a busy enough life for two decades without adding my daubs to the cacophonous creative ferment that is part and parcel of the New York art scene.
When I moved to Taos, NM, six years ago in search of a more affordable and less frenetic life, makee-doo, like some pesky restless spirit, squirmed her way back into my psyche. I made a dreadful landscape of the view outside my bedroom in acrylic on watercolor paper, tore it up, made a collage of the pieces, and began making more collages (which I still like). Those led to geometric paintings with vaguely Southwestern/Native American motifs (and some of these, too, I still like, and even showed in a local restaurant). In my next house, I converted the garage into a studio and was soon painting full-tilt boogie, but everything seemed to lead to dead ends, and there was no coherence to four years of work. And when I started Vasari21 I had no time for vexatious creative impulses. I still feel—and probably always will—more comfortable talking to "real" artists and writing about their careers, their strategies, their difficulties. Showcasing, advising, cajoling, and connecting are what I do best.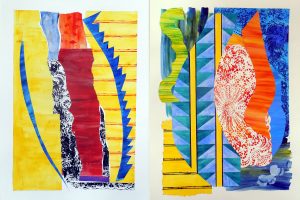 But then Vasari21 member Barbara Cowlin invited me to a Dura-Lar workshop almost a year ago. I went because it gave me an excuse to get out of town for an evening and provided a new subject to write about. I made a very nice blob and some intriguing dribbles, and like an ex-smoker offered cigarettes at a party, I was hooked all over again. By then I was living in yet another house with no studio space (the curse of the itinerant scribe who fails to factor in the importance of owning real estate….duh, it's called real estate for a reason).
Barbara stoked the makee-doo embers by sending along a box of Dura-Lar pads, and some paints and mixing mediums. My friend TJ Mabrey kindly offered a corner of her studio. Pretty soon, I was churning out landscape-like paintings which I then affixed to wooden panels, sometimes subverting the landscape idiom by slicing the Dura-Lar into strips. I don't entirely know what I'm doing, and would be hard put to write a sensible artist's statement, but I feel I've found a voice I can pursue for more than a few months. I see possibilities that even tease the edge of consciousness when I'm trying to fall asleep.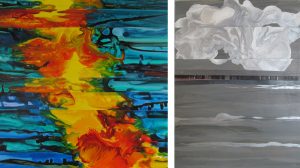 Better yet, I find I have a clearer understanding of the hurdles artists face in pursuing a full-time career at this—not just as a hobby but as a true calling. Never mind the obstacle course of showing, selling, promoting, and making a name for oneself. I grapple with the sheer unpredictability of the way materials will behave (though it's part of what I like about this medium) and marvel at the patience necessary to slog away day after day, hoping for the tiny breakthroughs that might lead to something truly original.
Those few hours a week I spend in the studio get my head working in a different direction, provide a contemplative outlet and an escape from long mornings at the computer, and, of course, keep the makee-doo monster firmly in check. Without tears, tiny or otherwise.
Ann Landi