The unfolding of an artist's life and work is a strange and mysterious process. If you've been following the posts in "Under the Radar," you see that there's no one-size-fits-all. Ted Larsen took several years off to rethink his direction. Phillis Ideal moved from one accomplished body of painting to another—each seemingly different from the other—before settling into abstraction. Among the anointed in the pantheon of 20th-century giants, de Kooning developed in a comprehensible, almost step-by-step fashion, but Agnes Martin didn't find her groove, the grid, until she was in her fifties.
So it is with Bonny Leibowitz, who in just the last few years has forged an entirely new direction for her art, although she has spent nearly three decades pursuing her muse. In the late 1980s, she says, she was making "contemporary Southwestern paintings, based on very abstracted horse-and-rider imagery." The work was selling briskly, "but I just got burned out on it. I hit a wall.
"That was a hard shift," she continues, "because I was giving up a following and the expectations of other people. I knew I had to change, and this was a complete rebellion. I went through several years of wondering what the heck do I want to talk about? But I kept working."
The latest upshot of those "years of wondering" was an enthusiastically received show last month in Dallas at Liliana Bloch Gallery, where her exuberant sculptures and wall reliefs combined an eye-popping array of materials–vintage and contemporary textiles, vinyl and acrylic, polymer foam, photography, mulberry paper, and oil and wax paint—in ways that managed to recall both the wildly inventive works of Nancy Rubins or Lynda Benglis and an overstuffed laundry basket.
Leibowitz grew up mostly in Philadelphia, but because her parents divorced when she was a baby, she also spent time with her father in Texas. "My dad was in the textile business. He was not only designing patterns, silkscreening onto yards of fabrics, making bedspreads and draperies, but he was also good at  problem solving and could do slipcovers without taking a lot of measurements," she recalls."I think the idea of understanding what an object might look like from the other side, its internal construction, is something I relate to in in my work along with the idea of problem solving, which is so directly related to invention. "
Her mother was a stay-at-home mom, raising the artist and her three siblings, encouraging her kids through classes in art and ceramics. "From early on I thought of myself as an art maker," she says, "but identifying myself as an artist to others didn't click in till I was selling work years later." She attended the Tyler School of Art at Temple University for a couple of years, where her horizons started to expand. "I remember going to the studio loft of one of my professors. It gave me a vision of how I wanted to live as an artist—in a big New York warehouse loft, painting with a gigantic broom on an unstretched canvas on the floor."
Instead, in her early-twenties, she moved to Dallas and worked for her father. "For three years, I mixed hundreds of colors for fabric printing. The experience gave me a good sense of what makes up any particular nuance in color. If a blue has a little bit of umber in it, I can spot that immediately." She married and began showing her work nationally—including in Santa Fe, Palm Springs, and Denver—and had a son, who is now in Austin, TX.
About two or three days a week, Leibowitz works in a 700-square-foot studio in Dallas; the rest of the time she oversees two other teaching studios and sponsors artist-run workshops. In spite of limited time devoted to her own practice, her output these last few years has been prodigious. There are small endearing sculptures with quirky names like Traditional Cream Puff and Rubber Baby Buggy Bumper; a series of lushly colored monotypes, whose shapes spill past their borders and incorporate materials like faux fur and string; another group of monotypes that include photography and Leonardo's anatomical drawings; and a series of odd and ungainly sculptures with the strange title "Plight of the Pleasure Pods."
"I started working 'dimensionally' and the shapes became very human," she says of the "Pods." They are, she admits. "both alive and repulsive. I was working in plaster, fiber, and collage, and when I invented this series I said, 'These are definitely archetypes.'" She went searching the web for Carl Jung societies around the world, looking for a Jungian analyst to write about the work. A writer and psychologist named Donna Cozort, who had studied in Switzerland, just happened to be in one of her art classes. "She started writing about my work, and the two of us did a talk at the artist's opening." Among the creepier sculptures in this group is Assisted Living, which incorporates a medical cart, petrified wood, and dangling yellow-ochre tubes. "It's about aging," says the artist—which might account for the shiver of dread this piece provokes.
The more recent works, though, are ebullient and sassy, and filled the Liliana Bloch Gallery like a room full of chatty strangers eager to find some common ground. "Hanging Bundle bounces off the wall, Small Monument folds in on itself, several small works dance about on the walls," as Leibowitz remarked in another interview. "I'm interested in varying the size and shape of each work so they play off one another."
Recently Leibowitz has been spending more time in the Bushwick section of Brooklyn, visiting artists and galleries. In 2015 she organized a show in Dallas, "Family Ties," with curator Julie Torres, bringing together 120 artists from both Dallas and Brooklyn. Next up is an exhibition of her own work, titled "Remnants and Other Elevated Parts," at No. 4 Studio on Morgan Avenue, which opens September 9, 2016. "Like so many artists, I've always had a strong passion for the scene in New York." That early dream of a loft in the city—and maybe of painting with a gigantic broom—may yet be within reach.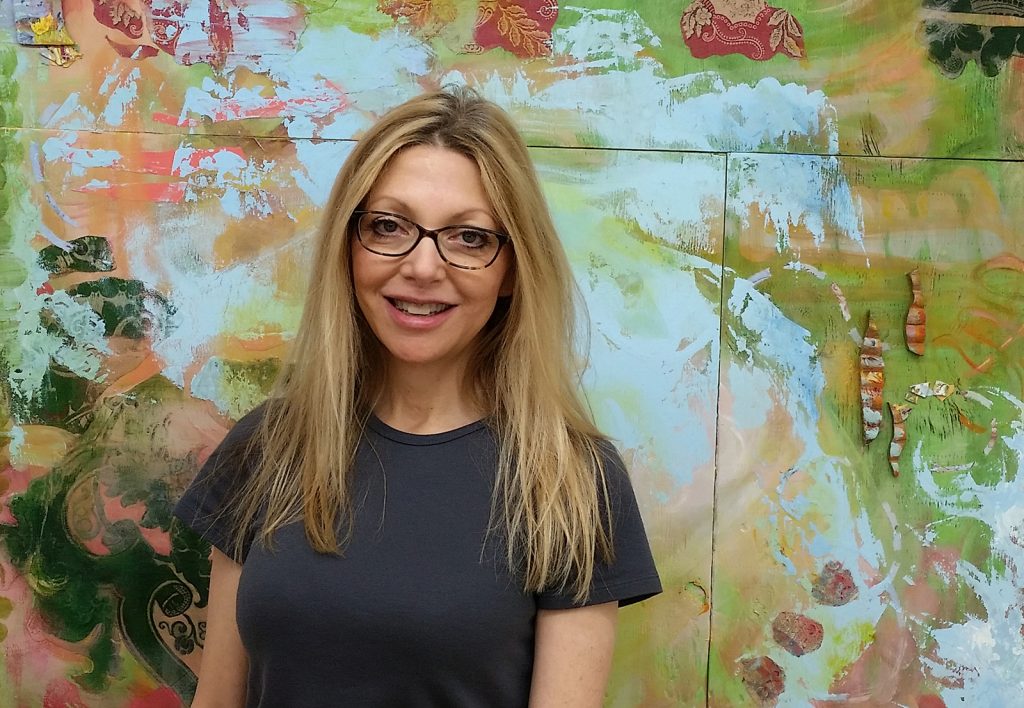 Bonny Liebowitz has had solo exhibitions throughout the United States, from Dallas, TX, to Santa Fe, NM, to Laguna Beach, CA, and group exhibitions in Matera, Italy; Akko, Israel; Brooklyn, NY; Baltimore, MD; and the Art Basel Satellite Art Fair, Miami Beach, FL. She has been the subject of numerous reviews and interviews, and has published a catalogue about "Plight of the Pleasure Pods" with an essay by Donna Cozort, Ph.D., of the Carl Jung Institute in Zurich. More about her work can be found here
Top image: Migration Patterns (2016), antique, vintage, and contemporary textiles and acrylic, 6 by 10.5 feet