In the fall of 2013, I published a story in ARTnews called "Show and Tell: The Dos and Don'ts of Studio Visits," which went the art-world equivalent of viral—that is to say, scores, possibly hundreds, of people shared on Facebook because this was apparently information artists wanted, as opposed to a profile of the latest hot young thing making videos from computer-generated images of hand-thrown ceramic figurines inspired by the domestic life portrayed in early 1960s sitcoms (well, you know what I mean).
So it seems a subject worth reviewing two years later, but before you go leaping to the link at the end of this post, and the concise list of tips you might want to tape on to your studio wall, allow me to recall the most spectacularly awful visit/interview of my 20-plus years of writing for the magazine.
…before you go leaping to the link at the end of this post, and the concise list of tips you might want to tape on to your studio wall, allow me to recall the most spectacularly awful visit/interview of my 20-plus years of writing for the magazine.
On the occasion of a show of Marisol's work at Marlborough some nearly 20 years ago, my editor, Eric Gibson (who later wisely moved on to the Wall Street Journal), asked me to write a short profile of the artist. Marisol was not really on anyone's radar at that point, but was familiar to me from art-history classes two decades earlier, one of the few women of the 1960s who had made it into the canon.
So I did what I always try to do before interviewing a subject: I tracked down as much as I could about her on the Internet, and I have a vague recollection of plowing through old issues of art magazines, Time, and Vogue in the midtown branch of the library because not everything was archived online in those days. As it turned out from press reports of the day, Marisol—born Mari Sol Escobar—was a celebrated talent and a major hottie in the swinging '60s New York art scene.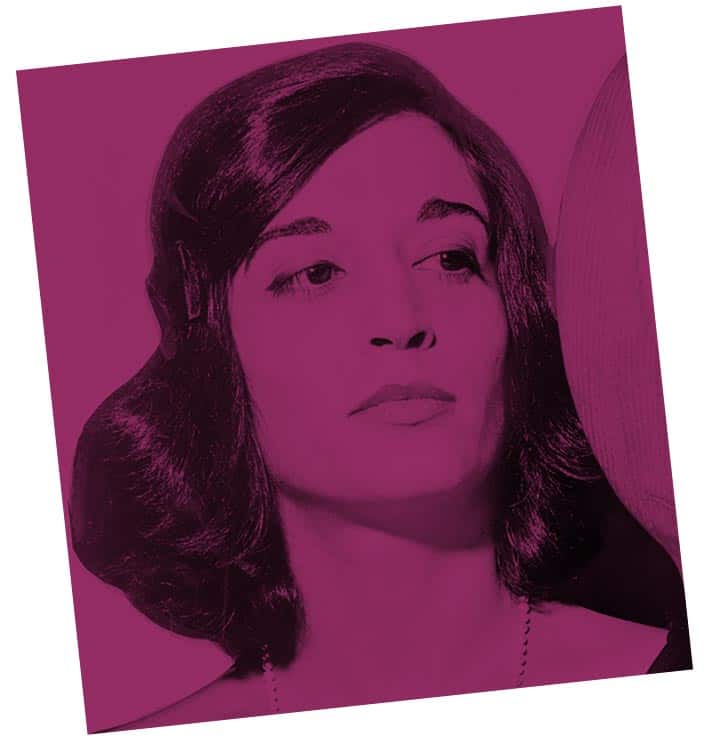 Marisol in the 1960s
A sloe-eyed, raven-haired beauty, born in Paris to Venezuelan parents, the artist moved to the U.S. with her family while in her teens, and later studied with Hans Hofmann in New York, gravitating to the luminaries of the Cedar Bar in the 1950s. Later, after her work took a big turn toward Pop, she made films with Andy Warhol, filled a gallery of her own with works for a show at MoMA, and became the subject of a profile by Gloria Steinem in Ms. A reported 2,000 people a day came to see her solo show in 1964, and New York Times critic Grace Glueck described her as a "Latin Garbo."
Her work was edgy, smart, and beautifully crafted from wood, found objects, drawings, and paint. Mostly free-standing sculptures, like large-scale assemblage, these were gentle parodies of contemporary culture that married folk art with up-to-the-minute references to politics and pop heroes and often featured her own self-portrait. (She once went to a party wearing a white mask; when guests demanded she remove it, she revealed her face made up exactly like the mask.)
And then in the late '60s she embarked on a period of sustained foreign travel and within a decade it seemed that both she and her remarkable sculptures were forgotten.
So, yes, I was very curious to learn more about this elusive artist who was not only a major talent in her own right but had hobnobbed with some of the leading lights of American art history (rumor had it she was once one of de Kooning's lovers). The gallery arranged for me to meet with her on a bright summer afternoon, and she greeted me at the door of her loft overlooking the river in Chelsea. She was tinier than I expected, still strikingly handsome, her dark hair streaked with silver, and she still had the large, sad, dark eyes familiar from earlier photographs.
She watched warily as I circulated among the few sculptures remaining in her studio (most were at the gallery), and when I asked about dates she mumbled that they were all recent. Then we settled in at a long dining table, her two enormous white dogs—I believe they were a sort of fluffy German shepherd breed—sat to either side of her chair, like benign guardians sent to protect her from journalists. I switched on my digital recorder, while Marisol nervously picked at her sleeve.
…her two enormous white dogs—I believe they were a sort of fluffy German shepherd breed—sat to either side of her chair, like benign guardians sent to protect her from journalists.
What were her parents like? Did she have memories of growing up in Paris?
"I don't really remember," she mumbled, her eyes sliding toward the window.
When did she first become interested in art?
"Um, I don't really know."
Who were her earliest teachers? Whose art made the deepest impression on her?
"I don't really recall."
Why did she never marry?
And finally, a real answer, rather a heartbreaking one. "Nobody ever asked me."
But on it went for 45 minutes—I don't know, I don't remember, I'm not interested in talking about that—until I was ready to scream: WELL, WHAT CAN YOU TALK ABOUT? Marisol all the while remained aloof, her face expressionless. Finally I gave up, realizing I had no story, no quotes, and no embellishments to the barest essentials I had gleaned from my research. I shoved my tape recorder in my purse and headed for the door. Before I left, she began apologizing, with a small shy smile. "I'm so sorry. I just quit smoking a few days ago, and I'm having a hard time focusing."
My heart went out to her. "Oh, God, I know….I've quit many, many times and it's really tough."
She brightened visibly, her eyes raking mine hopefully. "Do you have cigarettes on you now?"
I didn't, and I hastened out the door and down to the street, where I called my editor and informed him I didn't have even enough for a one-paragraph blurb in the gossipy "Art Talk" section of the magazine.
Now so many years later, I discovered from a two-year-old story online that Marisol never did much like talking about herself, and for years after her mother's suicide, when she was only eleven, she would say little beyond what was absolutely necessary. This is information I wish I'd had way back when.
In the meantime, it's good to see that the artist has received some belated recognition. There was a retrospective of her works the Memphis Brooks Museum in Memphis, TN, in the fall of 2014, with a handsome catalogue from Yale University Press. She is now in her mid-80s and reportedly in fragile health. I hope she has stayed off cigarettes, and that yet another generation will come to know her extraordinary work.
And here is the link to the ARTnews story on studio visits, click here.  Plus my six tips:
Six tips for a successful encounter with the press, curators, critics, dealers, or anyone curious to know more about your work
Clean Up and Get Organized.
No one expects an artist's studio to look like an operating room, but do try to keep clutter to a minimum because it only detracts and distracts from your work. Don't bombard a visitor with too many works—most say that five to ten is optimum, especially if the works are large. Get a friend to help you edit, if you find it difficult to winnow down your production.
Have Deep Background at Hand if It's Necessary.
Curators, dealers, and critics will probably know something about you from your website and previous encounters. They will most likely not require an A-to-Z recitation of your history or a stroll through every series you've ever made. But it doesn't hurt to have a short power point presentation at the ready, or catalogues and brochures, or even a video that explains bewildering technical processes, if you use these. Larry Bell, one of the pioneers of the California Light and Space movement, makes his work through an extremely complicated vacuum-deposition process using a huge machine in the studio. He has a video on a computer in his office for visitors who want to know more.
Yes, Do Tell Stories.
About the time John Baldessari kicked you out of his class or how seeing a Wagner opera inspired your latest series of drawings or how you had an epiphany about your work while kayaking in the Pacific Northwest. The more vivid and romantic the better. Journalists, in particular, are hungry for anecdotal detail and the human-interest angle.
Bring in an Assistant.
Especially if you have a group visiting and get flustered when people ask about prices. Or if your works are large and unwieldy and may require shifting about during the visit.
Keep Refreshments to a Minimum.
This is not a state dinner or business lunch, but a cup of tea or coffee or a bottle of water is a nice gesture. An artist I visited a few years back had arranged a sumptuous smorgasbord—everything from cheese to fresh anchovies to chocolate-covered nuts—but I'd just had lunch. Nonetheless I felt obligated to scarf down some of this bounty and left the studio with my stomach roiling.
Understand that Reactions to Works of Art May Vary Hugely.
When I love what I'm seeing I will become downright girlishly effusive, a great big knee-humping Labrador retriever, but other people can be maddeningly noncommittal. Petah Coyne tells the story of a museum director who came to visit her studio several years ago. He spent three hours looking at the work but said not a word. She was disconsolate, believing that he had no interest at all. "Then a couple of years later, my dealer called to tell me his museum was purchasing a piece," she recalls. He also told the gallery that he wanted to do a show in a year and a half. "It made me realize that people absorb work in different ways."
Ann Landi
Photo credits: Archduke Leopold Wilhelm and the artist in the archducal picture gallery in Brussels, David Teniers the Younger, circa 1651