If you happen to get to Charleston, SC, before August 6, be sure to visit the Redux Contemporary Art Center and Melissa Stern's multimedia exhibition "The Talking Cure," a collection of sculptures that are only too eager to tell you about the complicated workings of their inner lives. Stern asked a group of 12 writers to come up with scripts for her quirky characters and found 12 actors to read them. Summon these up on your smartphone and you'll hear their stories. It goes way beyond Pygmalion chiseling Galatea into life; now she can't stop yakking about it.
And Stern's sculptures, made from clay and other materials, form an irresistible gallery of comic dysfunction and distress: a maniacally grinning character holds forth a single shoe; another is chained from his mouth to an ominous anchor-like object; a pair of cone-headed creatures engages in an uneasy exchange. Where do these hapless creatures come from? How far into her own subconscious did the artist dig for inspiration?
"I have fantasies about families," Stern admits. "Being an only child affected my work as an artist. For one thing you spend a lot of time with yourself." And from a very young age she was building her own cast of playmates. "My mom and I made all my paper dolls and all their clothes."
Stern grew up in Philadelphia and describes her mother as "a frustrated artist who never went to college or art school." But she was a working mom in an era when that was a rarity among women. "She built, designed, and hand painted windows for department stores, worked freelance at advertising, and at night went to the Pennsylvania Academy of Fine Arts." Her father was a college professor who taught organizational behavior and was fascinated with military institutions.
"My dad said, 'If you want to be an artist, be a smart artist,'" she recalls. "'Learn how to write and have something to write about.'" Stern attended Wesleyan University, a small but highly regarded liberal-arts school in Connecticut. She wound up with a double major in art and anthropology and while still a student worked as the assistant curator of the print collection. "I took a lot of art history and anthropology courses," Stern says. "I've always been fascinated by the power of objects, and it always amazes that I could make something that would move someone else."
Like many aspiring artists, she headed for New York after graduation, and worked at a variety of jobs, including personal assistant to Tom Hoving, then retired as director of the Metropolitan Museum Art, and selling flatware at Pottery Barn. "I was trying to be an artist at night, like my mom, and ultimately I decided I had to get out of New York." After submitting examples of her high-school work in ceramics, Stern was accepted at the State University of New York at New Paltz. The program was a disappointment—"they were dedicated to turning out production potters"—but she knew she wanted to work with clay. "I can make it look like anything—like stone, wood, or glass—and it's both additive and reductive. To me it's the perfect medium."
She moved San Francisco in 1984, to the Hunters' Point Shipyards, where some 200 artists had studios. "I was working in clay, doing pieces that were more literally narrative, and this is when I began to draw more seriously and to integrate drawing as a major part of my practice."
In the late 1980s, Stern moved to Brussels with her husband, Jim Friedlich, whom she'd known since her college days and who worked for the business end of the Wall Street Journal. She had a studio in a largely Moroccan and Arab neighborhood, but wasn't making much art at the time. "I was an observer who lived between a lot of cultures," she recalls. "My landlords were Kurds, I'm Russian Jewish, and we lived in a fancy diplomatic neighborhood. I would be mistaken for Moroccan and encountered incredible prejudice."
After returning to the U.S., Stern spent a three-month residency at the Kohler Company in Sheboygan, WI. (The manufacturer of high-end bathroom and kitchen fixtures has an impressive arts center and sponsors hands-on workshops and instruction.) "I was one of three women in a factory of six thousand," she remembers. "The studios were right in the middle of the production floor, and workers are encouraged to wander into your studio space. I had an amazing time getting to know the factory people, many of whom were Vietnam veterans. I spent a lot of time listening to people's stories."
Stern admits to a "good ten years of wandering" before she began to put herself together professionally. "I always made things, I had galleries," she says, but she and her husband didn't have the feeling that they would stay in one place for long until returning to New York from Belgium. They then lucked into a 4,000-square-foot space in Chelsea—before Chelsea was fashionably upscale and out of sight for most artists—and Stern now has a large studio accessible via a freight elevator.
About the same time that she started to show in New York City, when she was 35, the artist made a quite conscious decision to have a child, Max, who is now 22 and a writer and playwright. "When he was 16 we collaborated on a one-of-a-kind book called Nightmares. He is still my best critic in the studio, and he was one of the writers for 'The Talking Cure.' I made a lot of compromises to be a mother, and I'm okay with that. Having a child influenced my work tremendously. I became more a part of the world of childhood, the world of storytelling and boundless imagination."
At the moment, Stern is back in the studio, making large sculptures on the wall with found objects. Her interest now is in the idea of what we buy when we travel, what objects we choose that will remind us of the experience. "Again drawing on my studies in anthropology, I'm interested in memory and experience and objects and the relationships among them. So I've collected a pile of souvenirs made in Africa for the tourist trade, and I've put out a call to friends to send their own souvenirs from travel."
But, like all good therapy, "The Talking Cure" is still an ongoing project. At the next venue, there are plans to develop a program for the hearing impaired. And there are always panels that involve neuroscientists and psychologists. "I inadvertently stumbled on a theme people respond to," she marvels. "I never imagined I would make something that would resonate so deeply and touch so many in different ways."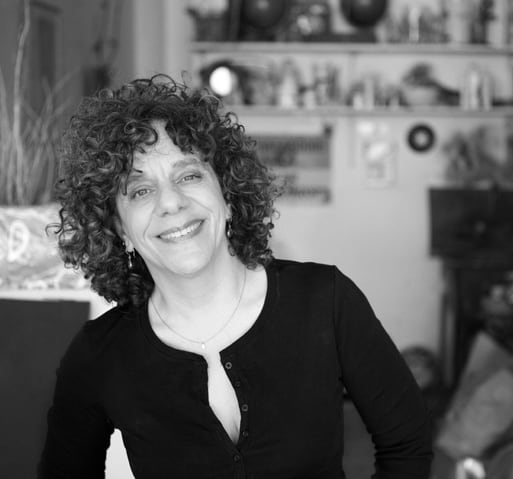 Melissa Stern lives and works in New York. Her show "The Talking Cure" will be traveling later this month to the Weisman Art Museum in Minneapolis, MN, and to selected other venues through 2019. Stern has exhibited widely throughout the U.S. and Canada, and her work is featured in a number of prominent co rporate and museum collections, including the News Corporation, JP Morgan, The Arkansas Art Center, the American Museum of Ceramic Art and the Kohler Corporation, where she was an artist-in-residence. More about her can be found at melissa-stern.com.
Ann Landi
Top image: Family (2012), oil paint, oil stick, graphite, 26 by 43 inches