Linda Vallejo Chooses Charles Gaines
"The Brown Dot Project (TBDP)," a series of mine from 2015, has been deeply influenced by the renowned Los Angeles-based artist Charles Gaines, whose works investigate the way rules-based procedures construct order and meaning. Gaines, born in 1944, makes drawings, photographs, and videos that grow out of a firmly conceptual practice. As Wikipedia puts it, his "work interrogates the discourse relating to aesthetics and politics."
Inspired by his example, I began using a grid-based color formula in "The Electrics" (2008-2010) to depict elements of nature, including oaks reminiscent of Gaines's "Numbers and Trees" landscapes. An idea that would challenge the politics of color occurred to me in 2010 and I began a new series entitled "Make 'Em All Mexican (MEAM)," taking repurposed antiques and painting them brown to create a new history made up of people of color.  After creating many MEAM works, I wondered if it would be possible to make a non-figurative work focusing on race and class.  I imagined abstract works using the color brown, which eventually grew into an image of brown dots placed on a grid. Now to transform the concept into an image!  
I found myself attracted to the possibilities of the grid as used by contemporary artists like Gaines, Agnes Martin, and Sol LeWitt. I was very fortunate in 2014 to see Gaines's solo exhibition at the Studio Museum in Harlem, which helped me to complete my thought process and finalize the image.  I decided to bring together the color-grid formula employed in "The Electrics" and the color brown to create a numerically-based abstract image driven by data about Latinos in the U.S.  
The resulting images in "The Brown Dot Project (TBDP)" recall the geometric patterns of Native American and Mesoamerican weavings, as well as the grid-oriented Modernists.  I describe "The Brown Dot Project" as an elegant solution to a series of complex questions about Latino life in the States.  As an example, the gridded number formula can be explained in TBDP Los Angeles 48.3%, a 24-inch square drawing in archival pen on gridded architectural vellum: The Los Angeles population is 48.3% Latino; the 24 square-inch image contains 48,400 total squares; 48,400 x 48.3% = 23,377.  Los Angeles 48.3% contains 23,377 brown dots representing L.A.'s Latino population. Counting squares and dots, completing the corresponding mathematics, and "dotting" the page mirrors Gaines's work in creating rules to construct order and meaning.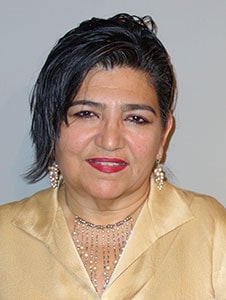 Linda Vallejo is a Mexican-American artist known for works in many mediums investigating contemporary cultural and political issues. Her works have been widely exhibited and are included in the collections of the National Museum of Mexican Art, the Carnegie Art Museum, and the Los Angeles County Museum of Art. More about the artist can be found on lindavallejo.com.
Photo credits: Top image from Linda Vallejo's series "Make 'em All Mexican," Super Hombre II(2015), 25 by 22 by 15 inches, repurposed plastic, acrylic, and metal flake.