By Christine Aaron
 I respond to art that simultaneously takes me both outside myself and more deeply inward. Though I respect work that is intellectually stimulating alone, the art that most engages me occurs at a physical level and insistently penetrates through the defenses erected in this over-stimulated world, landing squarely in the gut. It commands concentrated attention and may lead to a temporary disorientation, followed by a stilling within. While the work is usually conceptually based, it's the materials—embedded with a physical and symbolic history and showing evidence of the artist's hand—that most call to me.
In this curation I imagined certain immersive spaces interspersed with rooms of sculpture and wall work.
Chiharu Shiota's thread-based installations (top) create beautiful, unsettling spaces and investigate the themes of memory, human life, desire, connection, and absence. Visitors will emerge from this piece into a room where one of El Anatsui's woven "bottle-seal" tapestries spills toward the floor. Air currents gently rock the luminous sculpture, so viewers can listen to it as it winks across the room to a series of Yoshiaki Mochizuki's gesso, clay, graphite, and metal-leaf reliefs. Layered, the surfaces gleam from matte to a subtle shimmer, and as light plays across the surface and one's attention narrows, the imperfections of the hand-incised drawings are revealed.
Meg Hitchcock's elegant and lyrical drawings, upon closer inspection, reveal passages from certain religious texts spelled out to reference another faith entirely. They form a quiet counterpoint to Sati Zech's vibrant and powerful assemblages. Created from painted, ripped, and sewn canvas and paper, these speak to the communication and connection between people beyond spoken language.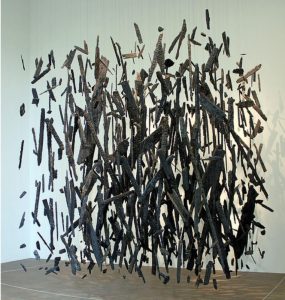 Enter the next space to encounter Cornelia Parker's Anti Matter, an installation of the blackened shards and remains of a Southern Baptist church burnt to the ground in an act of racist arson (below). The pieces float, resurrecting and referencing the previous life of the church and its current remains. Leonardo Drew's #8, weighted with history furiously brought forth into the current age, settles in next to several sculptures by Ursula von Rydingsvard. Her works are at once monumental and protective, the four-by-four lengths of cedar wood, tightly bound together, are hand-rubbed with graphite; their scent gently permeates the space. Helen O'Leary's constructed wood pieces speak to disintegration and repair, reclamation and resilience
Lastly one wanders into a room filled with Belie Liu's piece, Recall, made up of of 600 five- to eight-foot handmade paraffin strips in the form of a house (below). Light filters down, shifting and scattering as the piece whispers; speaking to loss and resiliency, the fragility of family, of shelter, of home. It is a fitting end to an exhibit addressing all these themes in a myriad of ways. These works haunt, seize the heart and mind, causing me to see differently, inhabit the world with a greater awareness to the connections among and between us all. What more could one ask?
Christine Aaron is a mixed-media artist who uses printmaking, wax, wood, metal and paper to create work investigating memory and the fragility of human connections. She has exhibited nationally and internationally, and is represented by Kenise Barnes Fine Art in Larchmont, NY, and James Gallery in Pittsburgh, PA. Aaron lives and works in Westchester County, NY.
Top: Chiaru Shiota, The Key in the Hand (2015), wool, thread, keys, boat, dimensions variable