Vasari21 Goes to the Movies
The new and already widely praised documentary about Eva Hesse, the subject of our podcast this week with director Marcie Begleiter, brought to mind the many films about artists made down through the years and inspired a mini-marathon of in-home screenings these last couple of weekends. By "films about artists" or "artist documentaries," we mean nonfiction narratives, not the Hollywood fabrications that tell the stories of Michelangelo, van Gogh, Frida Kahlo, or even Jean-Michel Basquiat.
The exercise raised the question: What makes for a good movie about an artist? Many I've seen bring a hushed and naïve reverence to their subjects, producing a narrative as solemn and self-important as a PBS special—or a golf game. Others short-change the art to tell a story (and the other way around). In recent years, artist documentaries seem to be getting more and more sophisticated—injecting animation, using professional actors to provide narration, and offering smart camerawork to rival that of a feature film.
Here are capsule reviews of a handful of artist documentaries, most of which are probably available at video stores, your local library, or through the links provided. (This was so much fun that Part Two of "Vasari21 Goes to the Movies" will be coming your way in the next few weeks.)
Eva Hesse
2016; director and writer, Marcie Begleiter; running time, 1 hour and 48 minutes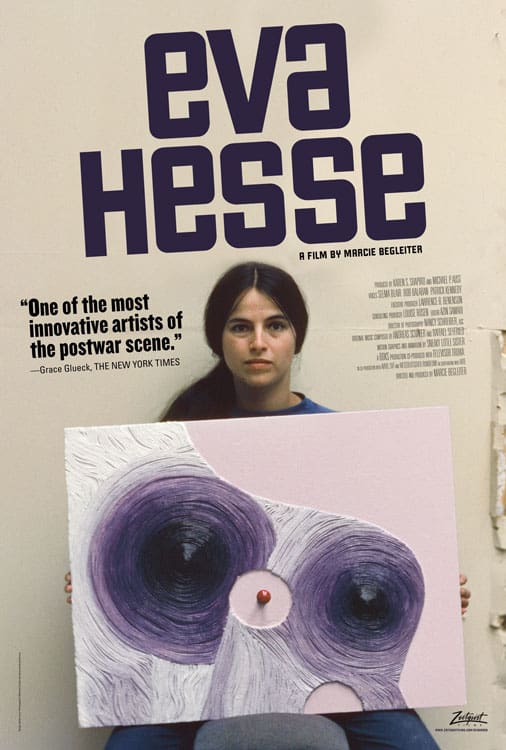 Hesse's story could have played out as a classic tale of doomed artistic genius: parents who fled Nazi Germany, a mother who committed suicide when she was ten, a troubled marriage to a womanizing sculptor, five years of producing astonishing art, and death from a brain tumor at the age of 34. But Begleiter keeps a lid on the melodrama, and narrates largely from Hesse's 1200 pages of heartfelt journals, which give as much weight to her growth as an artist as to the events of her short and difficult life. The director conducts astute interviews with the surviving luminaries of the era—Robert and Sylvia Plimack Mangold, critic Lucy Lippard, Richard Serra, Carl Andre, and Eva's appealing sister and other friends. Sumptuous camerawork captures the fragile magic and grave absurdity of the work, looking as fresh as when it was first exhibited. The movie is a smart mix of talking heads, charming animation, and vivid storytelling. The film is available on iTunes and Amazon Prime for about $5.00.
Ai Weiwei: Never Sorry
2012; director, Alison Klayman; running time, 1 hour and 31 minutes
The life and art of China's most outspoken and controversial artist are virtually impossible to separate, and the young American filmmaker Alison Klayman first caught up with Ai for a feature-length film right after the horrific Sichuan earthquake killed 70,000 people. Ai began posting photographs of the victims on his blog, writing about "the tens of thousands of lives ruined because of …. blood sellers in Henan, because of industrial accidents in Guangdong and because of the death penalty. These are the figures that really tell the tale of our era."
The then 24-year-old Klayman, working largely by herself, documented Ai's brutal clubbing by the police, his crusade against the shoddy construction in Sichuan, and the raid on his studio that ended with the artist's disappearance for three months. His background as the son of a noted revolutionary poet who fell out with Mao and was banished to the provinces is woven into the story, as are—briefly—his 12 years in New York, where he got his start as a street portraitist and learned to speak excellent English.
There is a lighter side to this larger-than-life artist-activist, as when he plays with his toddler son (by a woman other than his wife), declaring that fatherhood "is a treasure," or chows down on pig trotters in Sichuan and corned-beef at the Carnegie Deli in New York. Not much attention is paid to the art—what it is or how it's made—but when he dumps millions of hand-painted ceramic sunflower seeds on the floor of London's Tate Modern, it's an impressive sight, a breathtaking statement about individuality lost in collective identity. Available on Netflix and Amazon.com. Click here for more information. (And for a full look at Ai's activities, past and present, check out this site.)
Gerhard Richter Painting
2011; director, Corinna Belz); running time, 1 hour, 37 minutes
The title pretty much says it all. Director Corinna Belz lavishes huge amounts of screen time on long, nearly silent passages of the 80-year-old artist applying paint to canvas with large squeegees, scraping it off, and then assessing the results, only to tackle the picture plane all over again. "Painting is another form of thinking," declares the genial, soft-spoken Richter, but that observation doesn't make for a compelling narrative. There are interviews with historians, curators, and assistants to help understand his career; just don't expect much in the way of straightforward biography, other than a few flashbacks (one would like to know something, for instance, about his 10-year marriage to the adventurous multimedia artist Isa Genzken). As a visual feast, the film is stunning, and the shots of Richter's earlier "realist" works at the National Portrait Gallery give an index of the magnitude of his accomplishments. But the dazzling bits in this film never cohere into a satisfying whole. Available through Amazon video and other outlets.
Ilya and Emilia Kabakov: Enter Here
2013; director, Amei Wallach; running time, 1 hour, 43 minutes
Critic and filmmaker Amei Wallach has fashioned an engrossing and multi-layered portrait of the Kabakovs—primarily Ilya—whose six-decade career has resulted in some 600 exhibitions and 400 installations since he left Russia in the 1980s. The film's occasion was the triumphant return of the Kabakovs to Moscow's mammoth art space known as the Garage (one of six exhibitions that ultimately opened at different sites), but the film strikes a balance between the art and the life, including enough history to understand the enormous and generally devastating changes in Russian life over the last century.
Kabakov and his mother fled to Samarkand, in Central Asia, when the artist was seven. The boy's sketches, made on the sly, were good enough to get him into the Leningrad Academy of Art, which had also relocated to the hinterlands. He later transferred to school in Moscow, watched over by his mother, who was reduced to sleeping in public toilets and camping out in the houses of friends. Later, when she was in her 80s, Ilya asked her to write down her life story, and these became the basis of some of his most moving installations—and some of the most wrenching moments in the film.
After the death of Stalin, under Kruschev, as Ilya explains, there were "no shows, no galleries, the only life was in the studios." Artists illustrated children's books in order to survive, but in 1971 Ilya produced the first conceptual projects in the Soviet Union, appropriately in an underground café. By the time he arrived in the West in the 1987, living in various European countries for several years, it was with a sense that someone was always controlling his life: "a mysterious eye watched you all the time."
The film is generous in showing the Kabakovs' installations (and how the Moscow projects evolved), which don't require a lot of back story to gauge their impact. Threaded throughout are intimate glimpses into Soviet life across many decades of idealism and disappointment. The Kabakovs come across as collaborators—he makes the art, she does the negotiating and problem solving. One would like to know more about how they met and how they work together, but it's a minor quibble in an otherwise engrossing portrait of a great artist. Available on iTunes, Google Play, Vudu, and YouTube, or click here for more information.
Ann Landi
Photo credits:
Image of Ai Wai by Andy Miah (https://www.flickr.com/photos/andymiah/2801956735/) [CC BY-SA 2.0 (http://creativecommons.org/licenses/by-sa/2.0)], via Wikimedia Commons
Image of Gerhard Richter by User Hps-poll on de.wikipedia [GFDL (http://www.gnu.org/copyleft/fdl.html) or CC-BY-SA-3.0 (http://creativecommons.org/licenses/by-sa/3.0/)], via Wikimedia Commons