For the first decade or so of his career, Santa Fe-based artist Ted Larsen had been working successfully in a style he describes as "abstracted landscape." Then in the late 1990s came a period of profound searching and dissatisfaction. "There were a few years in which I was stuck in a moment of not knowing what to do," he says. "I was using found materials, wax, different pigments, and making bricolage and collage." In the summer of 2001, says Larsen, he had an epiphany. "If I didn't want something to be a simulation of something, which is what most painting is, maybe I needed the real thing."
And then came 9/11. The shock heard 'round the world was just as seismic in this sunny haven in the Southwest. He remembers "the eeriness of no planes flying overhead, the absolute stillness. Seeing people dying on the television. And the idea of making something that looked like something else when I'd just watched something real and incredibly disturbing….Did I want to be related to that?"
Nonetheless it was a few more years before he arrived at an idiom that satisfied his quest for a kind of language that was truly his own. His generally modest-sized pieces hug the wall or stand precariously alone, both graceful and awkward and as endearing as a battered old pickup truck—which is sometimes the source of their color and scruffy patina. As we walk around his studio, he identifies some of elements: "This is a school bus, this is a pickup….Here's an ice-cream truck." Long an aficionado of salvage yards, he adds that "metal is interesting to me, but as it's pre-painted, it varies significantly. I'm not interested in the shape of the car. I'm interested in the paint."
The strips and sheets of metal are wrapped around supports of densely compacted marine-grade plywood. Some are open-airy structures, geometric drawings in space; others are blocky sturdy reliefs that might call to mind the shapes of biomorphic paintings of the '50s. Of late he has been experimenting with the "wood skeletons" left after one of the relief sculptures is completed, balancing them on pedestals to find a whole new vocabulary.
Born in 1964, Larsen is the son of two artists who moved from southwest Michigan to Santa Fe when he was six. "When I was young, because my parents were successful, I really did not want to pursue an art career. I was terrified at the idea of being compared with them," he says. But about halfway through his undergraduate years at Whittier College in Philadelphia, he realized he "really wanted to make things." He worked for a couple of art dealers and taught skiing before launching a career as a painter (his earlier works are now in private and public collections, but he does not include them on his website). By the age of 28 or 29, Larsen was able to support himself from sales of his work; still he doesn't feel he arrived until around 2007-08 with pieces like Volvo, an angular construction that breathes new life into the welded metal tradition of David Smith and Julio González.
The last seven years have been enormously productive for the artist, who has pieces in many museum and corporate collections, and recently showed at Conduit Gallery in Dallas. In mid-March 2016 he opens a solo show at Margaret Thatcher Projects in New York and soon after that an installation at the Visual Arts Center of New Jersey. "I'm restless and I'm driven," he says, "I achieve a certain level, and I'll live with it for a while. I think I'm in a certain place and then I will come to realize I'm not there at all."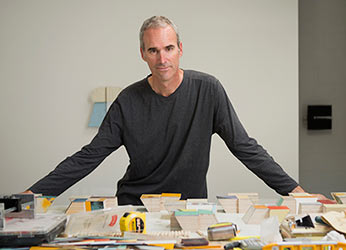 Ted Larsen in his Santa Fe studio. More about the artist can be found at tedlarsen.com.