Like many contemporary artists, Michelle Cooke prefers not to confine herself to any one subject or any one way of realizing an idea. She has worked with glass, aluminum, feathers, brass, gemstones, and barbed wire, as well as the traditional mediums of graphite and oil paint. And in the course of a 35-year career she has made exquisite drawings of pears, radically minimalist paintings, impossible-to-wear "armored clothing," and installations comprising hundreds of glass slides. "But the foundation of most of my work has been sculpture or drawing," she says. "I continue with both of those processes to this day."
Born in Hartford, Cooke relocated frequently as a child because her father was an electrical engineer who worked on government contracts. "He managed to move us literally coast to coast—from Washington, DC, to California to New York." Though she went to about ten different schools, the family of four siblings was a strong one and keeps in close touch to this day. Her mother, Diane Jameson Cooke, was a painter with Abstract Expressionist inclinations who had studied at the Art Students League with Richard Pousette-Dart. Wherever they lived, her mom had a studio and Cooke "hung out, usually making a big mess. One day she turned around and said, 'Maybe you need a canvas.'"
When she went to Berkeley in the 1970s, however, Cooke became a political science major and seemed bound for a career as a lawyer. Any enthusiasm for that profession soon faded, and it was her mother who again suggested art as an alternative. She landed at Claremont Colleges for graduate work, where the visiting artists included Robert Irwin and James Turrell. "They provided a great foundation for what it meant to be an artist," she says.
Critic Clement Greenberg was another visiting lecturer who made a lasting impression, especially during a tour of museums in the Los Angeles area. "He was very kind and humble, super observant, and inquisitive, with a broad range of knowledge and interests," she recalls. "I liked him very much and we stayed in touch until he died."
After earning her M.F.A. and marrying her first husband, Cooke accompanied him to Rome, where he was director of the art history center for Bryn Mawr College. For three years, she had a studio and worked at carving stone and doing glass installations. "Mostly it was a great study period, a time for trying to figure out where to go and what to be," she recalls. "What really had a huge impact on me were the visible gradations of time. Right under a café could be part of an ancient ruin," she recalls. "In Rome there is such a distinct layering of materials and cultures and people. That alone impressed me with the sense of how you can put things together, especially in relation to art history—it's all part of a continuum, and we're all part of the movement of time and how we interpret it."
Cooke started teaching soon after her Roman sojourn, first at Denison University in Ohio, and later at the University of New Mexico in Santa Fe, Albuquerque, and Taos. She now lives in New Rochelle, NY, with her second husband, a lawyer, and has what she calls a "stupendously wonderful job" for the Hudson Valley Cerebral Palsy Association, whose director asked her to design a program for people with disabilities like autism, Down Syndrome, and brain injuries. Cooke has devised ingenious ways for teaching color theory and even perspective to the mentally challenged, and her efforts have won her a teaching award from the New York State Cerebral Palsy Association.
A love of new materials informs almost all of her projects in recent years, one of the most provocative of which is the series she calls "Vesti." For these "garments" and accessories, she used nails, barbed wire, steel wool, and aluminum—with the occasional addition of pearls and lace—to make elegant but unwearable clothing that nonetheless has a distinctly feminine aura. "I was thinking about armor and what it would look like for women," she says. "What kind of materials could I bring together to make something that would really hurt you if you wore it?" Lest that sound overly sadistic, Cooke points to the various uncomfortable garments women have worn through the years: iron maiden bras, corsets, and girdles.
"When I come across a subject or material I find compelling, I ask myself how far I can push it," she says. And to that end, she recently spent a week learning how to pour cast iron at a workshop in Tucumcari, New Mexico. "I'm trying to update all the time," she says, "to see if I can find a new skill to complicate my life."
Ann Landi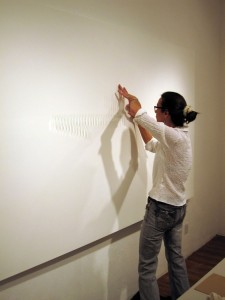 Michelle Cooke at work on a glass installation. She has shows forthcoming at the Las Cruces Museum of Art in Las Cruces, NM, and the Hulse/Warman Gallery in Taos, NM. More about her work can be found at michellecooke.com.
Photo credit: Double Arc (2010), glass on panel, 18 by 18 by 4 inches