"I used to be a secret reader of the New York Times Tuesday 'Science' section," says Lorrie Fredette. "I don't always understand what I'm reading, so my way into understanding is to go make something, to give it three-dimensional form." Since Fredette's projects of late have been inspired by infectious diseases, the Times—along with other scientific sources the artist consults—offers no end of documentary evidence in the form of photos, diagrams, statistics, and grisly details of contagion.
Take, for example, her site-specific installation Proper Limits at the Visual Arts Center in Summit, NJ, last year. Fredette filled a gallery with about 14,000 serpentine-shaped porcelain pieces, inspired by the spirochete that causes Lyme disease (and "14,000" relates to the number of cases reported in New Jersey between 2010 and 2013). The artist painted the floor of the gallery white, and required visitors to wear white surgical booties. Fluorescent lights gave the installation an even more clinical feel, and an audio track combined sounds like birdsong and rustling wind with hospital noises—sighs, respirators, the snap of bed linens "Everyone picked up that it was a biological infestation," she notes, "and some people refused to go in."
In a couple of other recent works, such as Common Carrier and Complex Interplay, Fredette filled spaces with clustered pods made of beeswax, unbleached muslin, and tree resin, each individually made (with some help from a turkey baster). These suggested unknown contagions and reflected her interest in "cell structure and how it looks under a microscope," she says. "It's very poetic to look at, and then to think how those shapes are so debilitating."
Fredette was a bit of a latecomer to art. She did not arrive at the Herron School of Art at Indiana University till she was in her mid-twenties, having worked for several years in a brokerage in Burlington, MA. But she came from a long line of New Englanders who were adept as upholsterers and seamstresses—an uncle had his own business and restored furniture for the Metropolitan Museum and Boston Museum of Fine Arts—and there were always projects going on at home involving fabrics, sewing, and embroidery.
By 1998, when she moved to New York, she had worked in repertory theater in Indiana, making props, and learned how to use fiberglass and other materials. She also took classes at the Art Students League, but laughingly confesses: "From 1990 to 1999, I made a lot of really bad work."
She was drawn to the sculpture of the late Eva Hesse, who talked about the absurdity of making the same thing over and over. And then some remarks by Andy Goldsworthy at a lecture in New York inspired her further. "Goldsworthy said that if you want to really get to know something, make that same thing again and again, and that is how you gain knowledge and understanding of the forms you're working with."
"My mind slips sideways, conjuring beauty and tranquility from inert microscopic imagery in a textbook."
And so in her studio in Brooklyn, overlooking tenements and apartment buildings, Fredette began obsessively constructing houses fashioned from rocks and dirt acquired at a local garden center. One installation turned into an almost comical assemblage of tumbling shapes, like an agglomeration of tiny Monopoly pieces made from wax and soil.
In 2000, she and her husband, Jeff Drucker, who works as a freelance production manager and website designer, bought a house and small studio in West Camp, a hamlet of Saugerties, and it is in this bucolic setting that the artist does the research and makes the components that go into her morbid but strangely captivating installations.
For starters, she reads up on a subject intensively and gathers photographs, data, and illustrations. "My mind slips sideways, conjuring beauty and tranquility from inert microscopic imagery in a textbook," she has said elsewhere. "I allow in more than the just the facts." Then she will make visual notes and draw, working thereafter from more and more new drawings. Those might be followed by a series of scans, which may be further layered and cropped. Finally comes a fallow period, when she walks away for a while and lets her "mind's dust settle."
All in all, an installation—often suggested by a curator from a specific venue—can take about a year and a half from approval of the project to completion. "I can't say I will always continue to investigate diseases," she muses. "It's been a trend in the art world to do long-standing investigations into something, but I'm not interested in that. I'll just see where my work takes me."
Ann Landi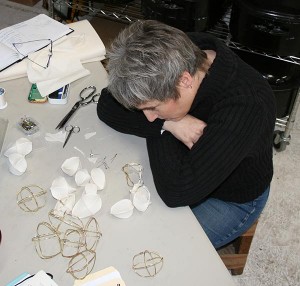 Lorrie Fredette in her studio in upstate New York. Her projects are now represented by Cynthia Reeves, and more about her work can be found at lorriefredette.com.
Photo credit: Atmospheric Causes (2009), beeswax, tree resin, muslin, brass, steel, braided line, 30 by 18 by 16 inches