Kate Petley's glowing and lyrically reticent abstractions come about through a complex process that weds state-of-the-art digital with old-fashioned gestural painting, and sometimes it's difficult to see where one leaves off and the other kicks in—but that's part of the seduction.
The paintings originate with a temporary collage using different kinds of film—Duralar, comic book films, gels painted and layered together.  "The more casual they look, the more interesting the results may be," she says. "There's a huge mess of random elements coming together, and I can make substitutions and changes very quickly." This original collage is photographed and printed, to be blown up on canvas. Petley then returns to paint on the canvas, exaggerating (or possibly ignoring) the printed image. It's a kind of process-oriented abstraction that Albert Oehlen often coaxes to a high degree of frenzy, but in Petley's work the end results are much more subtle. "I'm interested in that interface where there's a sort of sweet spot between how the digital image is physically perceived and where the hand comes in."
Petley's road to quirky but accomplished abstraction has been far from smooth. Born in Port Chester, New York, she moved to Kerrville, TX, at the age of five when her parents divorced, and later attended high school in Houston. For college, she landed at the University of Utah because of a high-school romance. There she studied sculpture and ceramics with the late Marilyn Levine, who specialized, as Petley puts it, in "hyper-realistic works that look like they fell off a stage coach." A week after Petley graduated with a BFA, her long-time boyfriend died in a car accident at the age of 22. "I made a lot of unfortunate life choices after that tragedy, and I gave up plans to be an artist." For about ten years, she took on odd jobs, did some modeling, taught guitar, and then, in 1987, ended up back in the studio.
"I had some money saved up, and I started my life all over," she recalls. "I was making big gnarly sculptures, lighting things on fire, chopping things up with an ax. I made my way through the Houston art community, looking at everything I could find, educating myself." But the muse was clearly percolating during that difficult decade. Within a year of finding her way again, Petley had a solo show at the Judy Youens Gallery. Among her early projects from the mid-1990s were sculptures and installations made from fire hoses, hay, rope, automobile windshields, and weather balloons. For nine months in 1995 she worked with two fellow artists to turn a condemned house into a huge camera obscura, which eventually opened to the public and attracted tourists and busloads of schoolchildren. The common thread in all these endeavors, as Petley notes, is a love of abstraction. "It's like a seed planted in my head somehow. It's how I see."
At the age of 45, she and her husband, Mark Purvis, moved from Houston to the tiny town of Pagosa Springs, CO. And there she discovered how much she needed the outdoors. "I was gobsmacked by the big mountains," says Petley, who is an avid skier, biker, and hiker. "Living in nature, only half a mile from the national forest, I learned a lot of things," she says. "It's interesting to hike by yourself—there are fears to overcome, preparations to deal with. The experience makes you stronger."
After nine years, however, Pagosa Springs—though charming as a tourist town and renowned for its natural hot springs—began to pall for a lack of connections and a thriving cultural milieu. In 2008, Petley and her husband moved to Longmont, CO, a lively community not far from Denver and Boulder. They bought an unexceptional suburban house and through a few neat tweaks to the architecture turned it into an understated showplace and a perfect backdrop for Petley's work, some of them from her various experiments with resin, which started 20 years ago and morphed into richly layered pieces on aluminum. She recently gave up the resin, however: "It's a very unforgiving material and I began to feel constrained by the limitations. And resin is toxic."
Next on the agenda for Petley is a series of monoprints, but the impulse to experiment appears to be far from over. She describes herself as "a painter with a history of installations, sculpture, and public commissions. The range of projects influences my work, showing up in the illusions and divisions of space and depth.  And in my desire to find unusual shapes." And she adds:  "I will use anything to get the results I want."
Ann Landi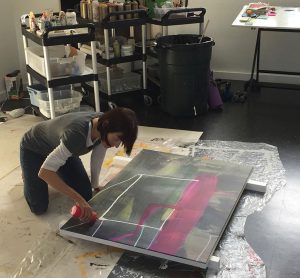 Kate Petley's work is in numerous corporate and public collections, including the Houston Airport, the Federal Reserve Bank, the Nicolaysen Museum, UCLA Santa Monica Hospital, Morgan Stanley San Francisco, Vail Industries, and Fidelity Investments. In 2015 she completed an invitational residency at the Franz Mayer of MunichArchitectural Art Glass studio in Germany. She is the recipient of numerous awards, including an NEA Rockefeller Foundation Grant. Her monoprints are published by Manneken Press, and Petley is represented by Robischon Gallery in Denver. More about her can be found at katepetley.com.
Photo credit: As If It Were Here (2015)  Acrylic and Archival Ink on Canvas  34 x 48 Inches