Five years ago, while rock climbing in upstate New York, Jamie Hamilton fell about 45 feet and lived to tell the tale. "I landed on my butt, and I bounced to my feet," he recalls. "The impact literally caused me to bounce." He calls the incident "a catalyst of sorts.…I felt a renewed energy toward trying to contribute something of worth, to give back something beautiful."
And so, as part of his practice, he has taken up high-wire walking at his home in Glorieta, NM, and in what he calls "clandestine performances" in Los Angeles. In addition to the usual tightrope walker's magic of simply going from one point to another  via a narrow cable high above the ground, Hamilton lies down on the wire, sits cross-legged, and performs other tricky breathtaking maneuvers. He considers the platforms, rigging, and of course the capacious net—sited in a clearing about a mile from his studio–among the most ambitious of his sculptural projects. And in the early spring sunshine, under a vivid blue sky, it is indeed "something beautiful."
Throughout his career, and for most of his life, Hamilton has sought to integrate three different passions: a love of building, an intense engagement with the body, and a fascination with art. His mother is an architect and his father a carpenter who together built the unusual dome-shaped adobe house the artist lives in when he's in New Mexico (he has been spending more and more time in L.A.). As a high school student, he could count Tom Joyce, a MacArthur fellow known for his work in steel and cast iron, among his earliest mentors. "I was exposed to an extremely high level of craft," he remembers.
Later, at Bard College, from which he graduated in 2002, he studied both art and physics, and then spent several years working in New York as the head studio assistant to Judy Pfaff. "The city was such a madhouse," he says. "I think I was always in a state of shock." But he was fascinated by the metro area's bridges and what he calls "weird plumbing stuff"—the simultaneous building, maintenance, and lapse into disrepair of the urban infrastructure over time.  He was also exposed to the work of artists like Richard Serra, Anish Kapoor, Lee Bontecou, and Janine Antoni. In the last few years, Hamilton's art education has been rounded out by a low-residency graduate program in the prestigious Transart program based in Berlin and New York. 
And it's also in the last few years that the 37-year-old artist has truly come into his own as a sculptor, with a show of engagingly trippy works at the Center for Contemporary Art in Santa Fe in 2012 and a more recent exhibition of smaller pieces at Chiaroscuro Gallery, also in Santa Fe. In the CCA show, the largest sculpture, Thanatos—assembled from steel poles and cables, ribbons of nylon, and spandex "sails"–occupied more than 800 square feet of floor space and resembled a vessel ripped apart by a violent storm. As I noted in ARTnews, "Hamilton is also a formidably talented draftsman and his elaborate schemes on paper suggest a freewheeling modern-day Leonardo."
For the Chiaroscuro show in 2015, Hamilton made small-scale mixed-media sculpture from steel and high-strength neodymium magnets. He also introduced mirrors, which led to some highly engaging optical effects: in As the Stomach Bleeds, panes of mirrored glass made the sculpture appear to twist and turn in ways the work actually doesn't. In others, Hamilton exploited the fact that two facing mirrors will reflect each other and appear to extend infinitely in either direction.
At the moment, the artist is at work on a commission that grows out of his 2012 sculptures for the CCA show. And he is increasingly preoccupied with doing more of what he calls "interventionist" performances in L.A. "To me, the magnet structures from the Chiaroscuro show seem like lichen," he says. "I'm thinking of sticking them in different places in different cities, putting them in settings with the architecture, so that they might crystallize in some intriguing way. And I've become really interested in the glass. I see myself getting involved with optics along with magnetic forces.
"I'm toying more and more with the idea of working like a graffiti artist," he admits with a sly grin, "installing public artworks that are anonymous in the built environment. And I can get the desire to share something out of the way—I don't need an institution to do it."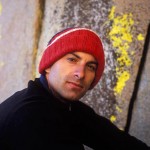 Jamie Hamilton divides his time between Los Angeles, CA, and Glorieta, NM. More about his work can be found at http://arecibo.c1h2.net/
Ann Landi
Photo credits: Sunny Khalsa (Amor Fati: the artist on the tightrope); Nick Merrick©Hedrich Blessing (Eros, Thanatos, Up Is Down); Susanna Carlisle (Proton Decay).