"Is that a penis?" I ask Greta Young during a visit to her temporary studio not far from the Railyard gallery district in Santa Fe. "It could be, it could be," she says, sphinxlike but smiling, and refusing to elaborate further. The crudely outlined squiggle could also be a toe or an arm or maybe a detached runaway thumb, such is the ambiguity of body parts on a collision course with other anatomical detritus and broadly brushed areas of color in her large, usually unstretched canvases. These bits and pieces of struggling humanity are comic, but they also seem somewhat desperate and doomed.
Young, now in her mid-sixties, is a late bloomer, applying herself to developing her own singular vocabulary in just the last eight or nine years. She grew up in Boston and then moved to Chicago to attend high school. Her formal schooling was at the California College of Arts and Crafts, after a two-year stint at Ohio University. Until a couple of years ago she earned her living as a candy dipper, which, she says, may have influenced her painting because "it's kind of a goopy profession."
She cites de Kooning and Baselitz as other influences, admiring the latter's "upside-down-ness." Kara Walker's bold black silhouettes are also a source of inspiration. But it wasn't until I looked at her c.v. online that another connection clicked into place. Years ago Young studied with Knox Martin at the Art Students League in New York, and for sure some of that artist's raucous and cartoony sexuality must have crept into her work.
Her preferred mediums include black or white gesso, oil sticks and oil paints. Lately, huge looming shapes appear in her canvases, inspired, she says, by mausoleums in Sillustani, Peru. Other ominous presences suggest shadows or flattened bodies or the aftermath of nuclear fallout.
In fact, a clutch of her paintings were standouts in a show two years ago at the Center for Contemporary Art in Santa Fe, "Atomic Surplus," which surveyed artists' reactions to New Mexico's long history as the cradle of the atomic bomb. Young's work was also included in "Art on the Edge," curated by Toby Kamps, at the New Mexico Museum of Art in 2013. Her drawings were featured recently at the Argos Studio/Gallery in Santa Fe, and she is in talks for a pop-up show at Axle Contemporary, also in Santa Fe, this spring.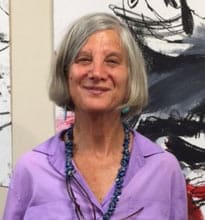 Greta Young
mixes body parts with painterly detonations. Find out more about her at 
gretayoung.com
.