When she was growing up in Indiana, Sheila Miles drew just about anything within her orbit: cow, horses, barns, even the calves the family raised in the back yard. In a household of six kids, making art was a way of finding some space for herself, and in high school she won a prize for a painting of a barn. She recalls her subject as a "broken-down structure," but she knew intuitively that her quest was about "looking at the beauty in everything."
Abandoned, neglected, and derelict buildings are still a favorite subject—especially those in the environs of her studio just outside Santa Fe—but now some five or six decades later she brings to her works a painterly sophistication that recalls such 20th-century masters as Fairfield Porter or Edwin Dickinson. And sometimes there's a loneliness whistling through these broken-down walls that summons the ghost of Edward Hopper.
Miles has had a formidably varied career as an artist, curator, and teacher. After graduation from the Purdue, she headed for the Hans Hoffman School of Art in 1974, landing in the storied artists' enclave at a time when Norman Mailer and Robert Motherwell were still powerful presences. For nearly three years, she was curator of the museum, and then spent a short time in New York, where she met her former husband, a musician and writer (with whom she played guitar and sang harmony).
The two headed for Montana, and though the marriage didn't last, the wild and woolly West became her home for more than two decades. In 1982, when her son was nine months old, she got an artist's residency and moved to Miles City, MT, a town of 3.000. "I'd go to a one-room schoolhouse on the prairie, where the kids would live for the week with a teacher. They'd be flown in from the ranches," she recalls. "Or I'd teach on Indian reservations, through the Montana Arts Council.  I would go to the Native American school, and they'd say, 'Oh, you're only going to have 30 kids' and I'd arrive and there would be gymnasium full of 400 kids."
During those years, she was also a curator for the Yellowstone Art Museum and organized an impressive show of the works of Richard Diebenkorn in 1989. A decade later, a $20,000 grant from the Adolph Gottlieb Foundation finally allowed her to establish a studio that was separate from her house.
In 2001, when she was an adjunct at the university in Missoula, her very first boyfriend, Robert Bolton, an industrial engineer, sought her out. They reunited and lived in northern California for a while before settling in Santa Fe. Miles still teaches, now at the Desert Academy, a highly regarded prep school, but she is home by mid-afternoon and paints almost every day. Of late, she likes to drive around, chauffeured by Bolton and "just shoot and shoot and shoot" the photographs that become the basis for her landscapes.
But Miles has another side to her artistic persona: wild, spontaneous, and impulsive. And almost childlike. She makes collages from "repurposed paintings and drawings" and begins the process for these with "papers strewn about everywhere," she says. "I search through the paper pieces until I see a leg, lips, an ear, and so on. I never know what I am looking for and never keep the first several solutions. They are an intuitive reflection of my subconscious reality and intentionally raw, uncensored, and revelatory." One example in this vein, 3 a.m. Philadelphia Man (with a hole in his soul) was made in a Philadelphia hotel room after a night of protests against the Freddie Gray police-custody death in Baltimore. "At three a.m. I was awakened by someone aside screaming like a madman," she says. "The next day I made the collage in my room. It wasn't really planned, but when I finished I realized who it was."
These days, though, the artist says she prefers "beauty, simplicity, and calmness." Working from photos allows her to proceed in a more direct trajectory because there's an end point in view. "I can paint for three days," she adds, "but often the painting doesn't come together until the last 15 minutes."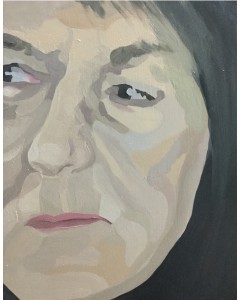 Sheila Miles has exhibited in over 300 exhibitions and over a hundred of her works are in public collections including the Federal Reserve Bank of Minneapolis; the Holter Museum; the Missoula Art Museum; the Yellowstone Art Museum; Deaconess Billings Clinic; University of Joensuu, Rantasalmi, Finland and Provincetown Art Museum (MA). A lifelong educator, Miles has taught at Universities, secondary schools and workshops throughout the country. A recipient of numerous awards including a Gottlieb Foundation Fellowship, she currently lives in Santa Fe, NM. More about her work can be found at artistmiles.com.
Ann Landi
Photo credit: Gray Place on the High Road to Taos (2015). oil on canvas, 24 by 36 inches