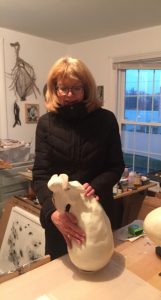 Vasari21 relies on the contributions of readers like you to keep on publishing information, profiles, podcasts, and more. Take a look at the features under "Articles" on the menu bar to discover some of the content you won't find anywhere else—such as an ongoing series of guides to art coaches; what dealers look for in representing new artists; the marketing value of the DIY catalogue; tips for selling on Instagram; and many many other topics.
Every week brings you profiles of talented, under-known artists. Regular podcasts on Vasari21 Radio offer interviews with critics and dealers, artists and experts. And there are essays from artists, spotlights on collectors, irreverent editor's notes, and much more. Just scroll down the homepage to see the selections from the Vasari21 archives.
The best part for me as the editor and impresario of this site is connecting people. When artists are traveling to different cities, I can put them in touch with other members. Ditto if a wholesale move of home and studio is in the works. Members may have a question about a particular dealer or art fair or perhaps even points of art-world etiquette. I'm happy to find answers if I can. I've loved getting to know better each and every person who is part of this site.
But I need your help to keep it going! A 25-dollar contribution offers full membership (eligibility for Vasari21 Pics of the Day on Facebook and Instagram and consideration for an "Under the Radar" write-up about you and your work). For $100 (or more), we'll send along a sturdy Vasari21 apron. If you're feeling exceptionally generous, there is also the option to make an ongoing recurring donation in a specified amount of $10 or more, or any amount you choose.
Thanks so much for your help!

---